fr | juillet 2021 : Sculpture Navale #3 réveille la Barkasse…
Chantier de carénage écologique !
de | Juli 2021 wach SN#3  die Barkasse auf…
Umweltfreundliche Rumpfbehandlung!
en | In July 2021, SN#3 wakes up Barkasse…
Ecological careening in progress!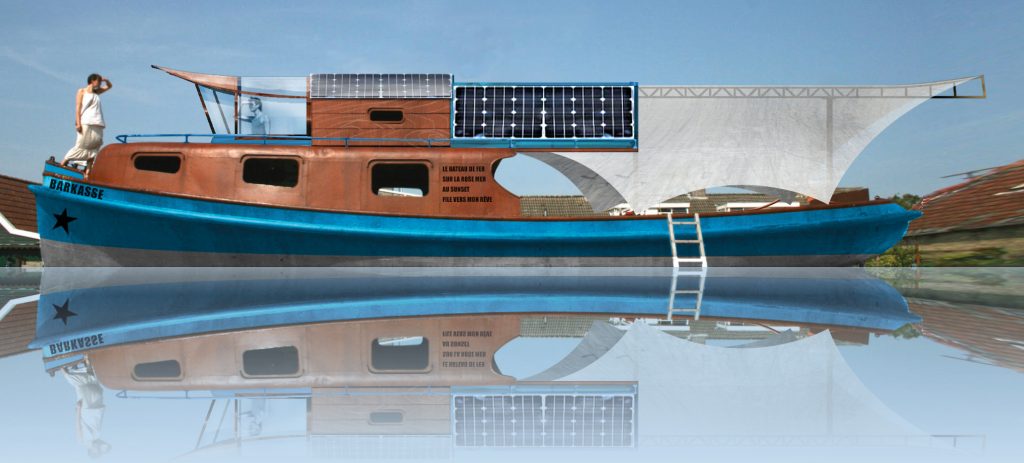 fr | Deux études menées avec l'ICAM Nantes ont permi de recenser les atlernatives aux traitements de coque conventionnels.
Les eaux vives (partie immergée de la coque) seront traitée au Doxanode.
Ce traitement à base de zinc a été sponsorisé par l'entreprise.
Les francs-bords (partie de la coque entre la ligne de flottaison et le plat-bord) seront protégés avec une peinture epoxy sans solvants… partenariat en cours !
La cabine sera de nouveau traitée à l'Owatrol (Rustol), un anti-oxydant translucide à base d'huile.
Les fonds de cale seront de nouveau traités à l'huile de lin.
de | Zwei Studie, die zusammen mit ICAM Nantes (TU) gemacht wurde, haben Alternativen von Konventionellen Rumpfbehandlungen geforscht.
Unterwasser wird mit Doxanode behandelt. Diese Zinkprodukt würde von der Ersteller gespendet.
Freibord (Rumpfteil zwischen die Wasserlinie und Bordkanten) wird mit lösemittelfreie Epoxylack gestriechen… Partnerschaft im Prozess!
Die Bugkajüte wird noch einmal mit dem transparentlack Owatrol (Rustol) behandelt.
Der Innenrumpf wir noch einmal mit Leinöl behandelt.
en | Two studies from ICAM Nantes (TU) had schown that alternatives to conventionnal Hullahndling exists.
Doxanode will be applied on the Underwater surfaces of the hull. This zink-based handling has been sponsorised by the manufacturer.
A solvant-free epoxy paint willcover the Freebord (surfaces of the hul included between the water line and the gunwale)… Partnership in process!
The cabin will be paint again with the transparent oil-based Owatrol (Rustol).
The bildge will be handel again with leinseed oil.