fr | Mi-août 2017, nous voilà pour un mois aux Pays-bas pour la première phase du processus de mise à l'eau de Barkasse. Cette session de chantier est dédiée à la rénovation de la structure de la coque et aux premières transformations de la cabine existante. Cette étape est essentielle pour préparer le carénage et l'installation du moteur (tout deux à venir au printemps et à l'été 2018).
en | Middle of August 2017: we are back for one month to Netherland for the first phase of the launch Process of Barkasse. During this working session, we renovate the structure of the hull and we make the first transformations on the existing cabin. This essential step prepares the handling of the hull and the installation of the motor (both are planned for the comming spring and summer 2018).
de | Mitte August 2017 sind wir wieder ein Monat lang in die Niederlande für die erste Phase des Stappelaufprozess von Barkasse. Im Arbeitsprogramm gibt es die Renovierung der Struktur und die ertse Bearbeitung der bestehende Kajüte. Es ist ein wesentlichen Schritt um die Rumpfbehandlung und die Montage des Motors zu vorbereiten (beide für Frühling und Sommer 2018 geplant).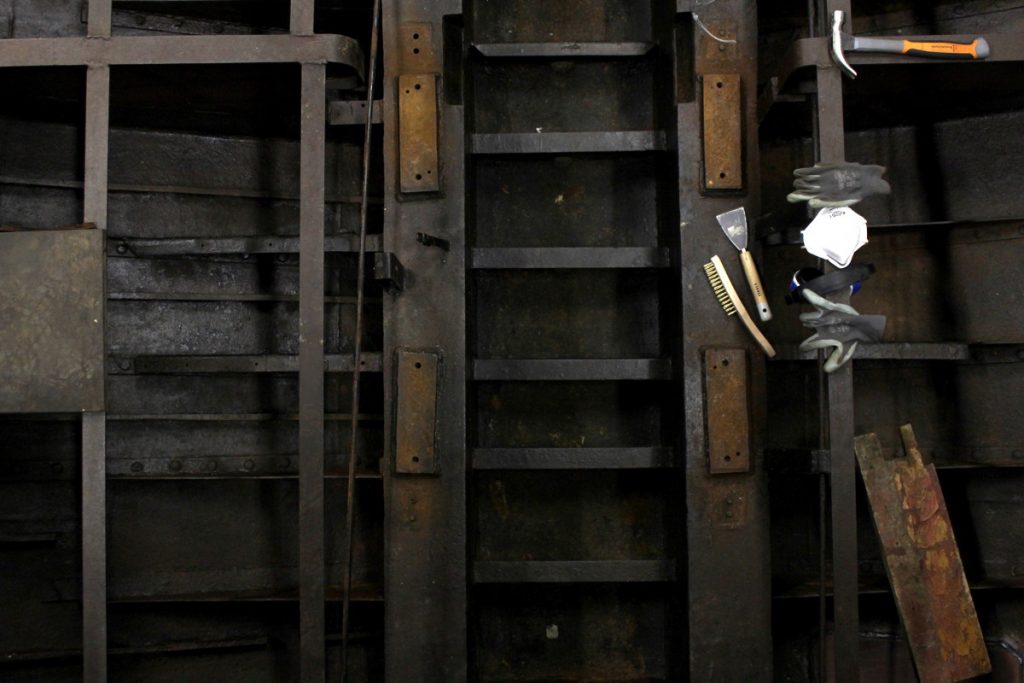 fr | Le traitement de l'acier à l'huile de lin (réalisé à l'été 2015) a fait son effet : les restes de rouille se sont désolidarisés de l'acier. La première étape de la rénovation de la coque consiste à mettre l'acier à nu : travail laborieux au marteau, burin, spatule, brosse… Deux semaines durant, la coque résonne sous nos coups.
en | The handling of the steel with leinseed oil (done in summer 2015) worked well: rests of rost has been loosen. The first step of the hull renovation consist to bare the steel: laborious work with hammer, chisel, trowel, brust… The hull ring out two weeks long from hammering.
de | Die Leinölbehandlung, die wir im Summer 2015 gemacht haben, hat gewirkt: Restrost haben sich von Stahl gelöst. Das erste Schritt der Renovierung des Rumpfs besteht in Entrostung um den Stahl aufzudecken: mühsame Arbeit mit Hammer, Meißel, Spachtel, Brüste… Das Rumpf ertönt zwei Wochen lange von hammern.
fr | Lena et Romain sont là pendant une semaine pour prêter main forte !
en | Lena and Romain are there for one week to give a hand!
de | Lena und Romain sind eine Woche lang da um mitzumachen!
fr | Le résultat: acier à nu et structure prête à être retravaillée.
en | The result: rost remove and stucture ready to be worked.
de | Das Ergebnis: Stahl entrostet und Struktur bereit um überarbeitet zu werden.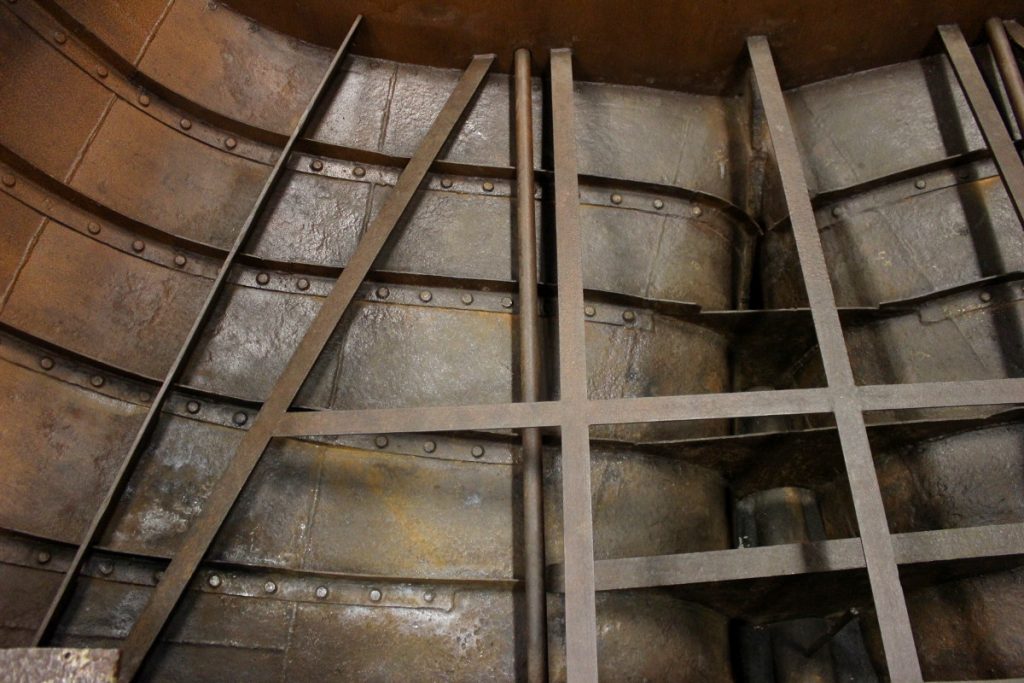 fr | La suite des opérations dépend de décisions techniques et de l'usage futur de l'espace : nous réfléchissons donc avec les techniciens du chantier naval  aux solutions possibles et nous faisons un travail de relevé précis (relevé du pont, de la ligne d'eau, etc.) tout en continuant les plans d'aménagement.
en | The next step depends on technical decisions and on the future use of the space: we think about the solutions with technicians from the dock, we make a survey (of the deck, of the waterline, etc.) and we continue to plan the fitting.
de | Die Fortsetzung untersteht der technischen Entscheidungen und der kommende Benutzung des Raums: zusammen mit den Technikern der Werft überlegen wir über die verschiedene Lösungen. Parallel dazu vermessen wir genauer das Rumpf (das Deck, die Wasserlinie, usw.) und wir plannen die Einrichtung weiter.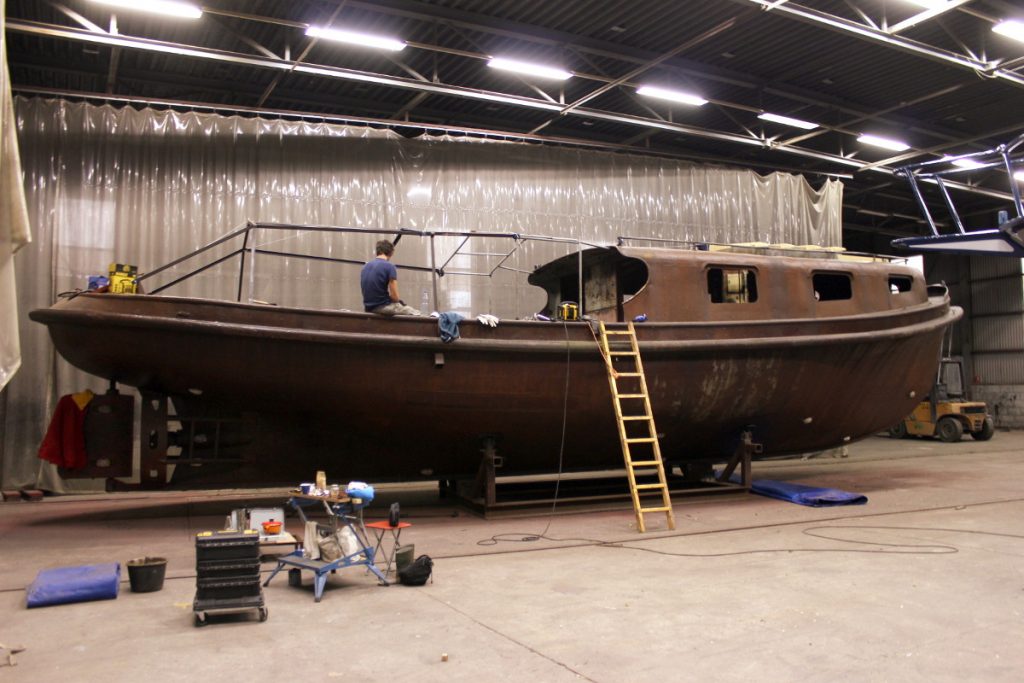 fr | De ces échanges il ressort que tout découle de la position et de l'encombrement du moteur, et donc de la solution envisagée (moteur électrique ou moteur diesel). Il nous faut donc attendre l'avancement des différentes offres et devis et les résultats de l'appel à don.
Plusieurs pistes se dessinent : un moteur d'occasion récent est notamment disponible sur place, le propriétaire doit nous faire une offre cet hiver ; et attendons par ailleurs des retours des entreprises spécialisées dans la motorisation électrique… à suivre.
En attendant, nous préparons la structure et commençons à enlever des éléments existants, notamment des composants techniques obsolètes et un gros morceau: la cloison qui sépare la cabine du pont!
en | From these exchanges, it emerges that all depends on the position and the size of the engine and so on the considered solution (electic motor or diesel engine). We have then to wait for quotes and for the crowdfunding in progress.
Some possibilities appear: one second hand engine is avialable on site, the owner should make an offer this winter ; we are also waiting for feedbacks from companies specialized on electric motorisation… to be continued.
In the meantime we prepare the structure and start to put out some existing elements: obsolete technical components, and above all the bulkheab between the cabin and the deck!
de | Aus diesen Austausch ist ersichtlich, dass alles aus die Stelle und die Abmessung des Motors folgt, das heißt aus die Lösung womit wir rechnen (Elektro- oder Dieselmotor). Wir müssen dann warten auf verschiedene Angebote und Kostenvoranschlag, and auf das Ergebniss des Spendeaufrufs.
Mehere Spüren sich abzeichnen: ein gebrauchte Dieselmotor ist von Ort verfügbar und der Eigentumer soll uns während des Winters ein Vorschlag uns schicken ; wir warten auch auf Firmen, die Spezialist für Elektroantrieb sind… Fortsetzung folgt.
Immerhin fangen wir an die Struktur zu vorbereiten und bestehenden Elemente abzubauen: überholten technischen Bestandteile, and vor allem die Wand zwischen die Kajüte und das Deck!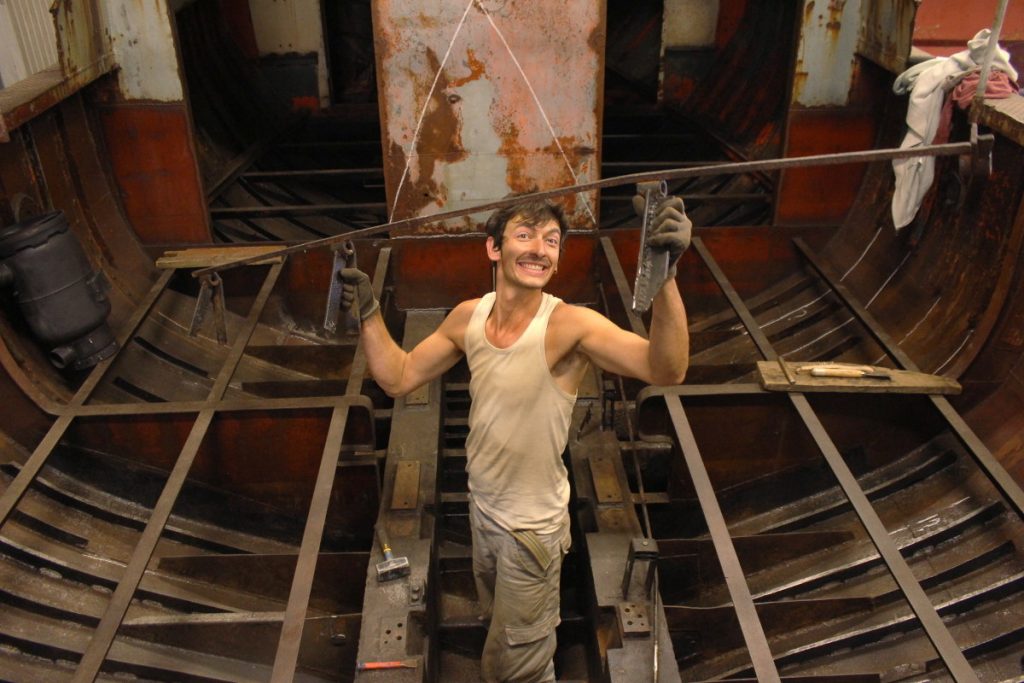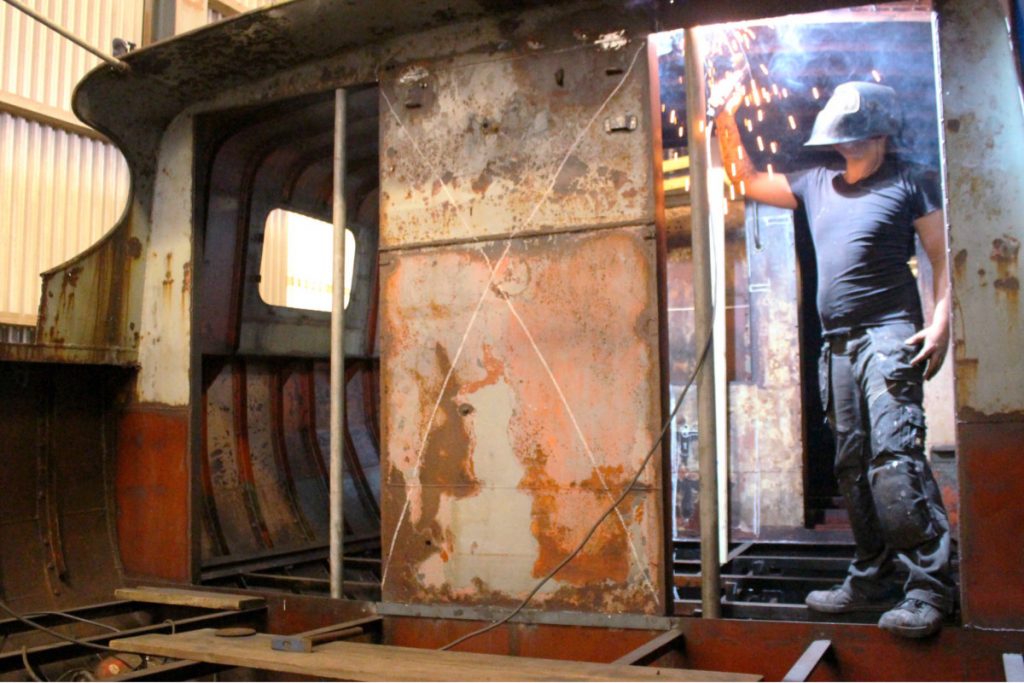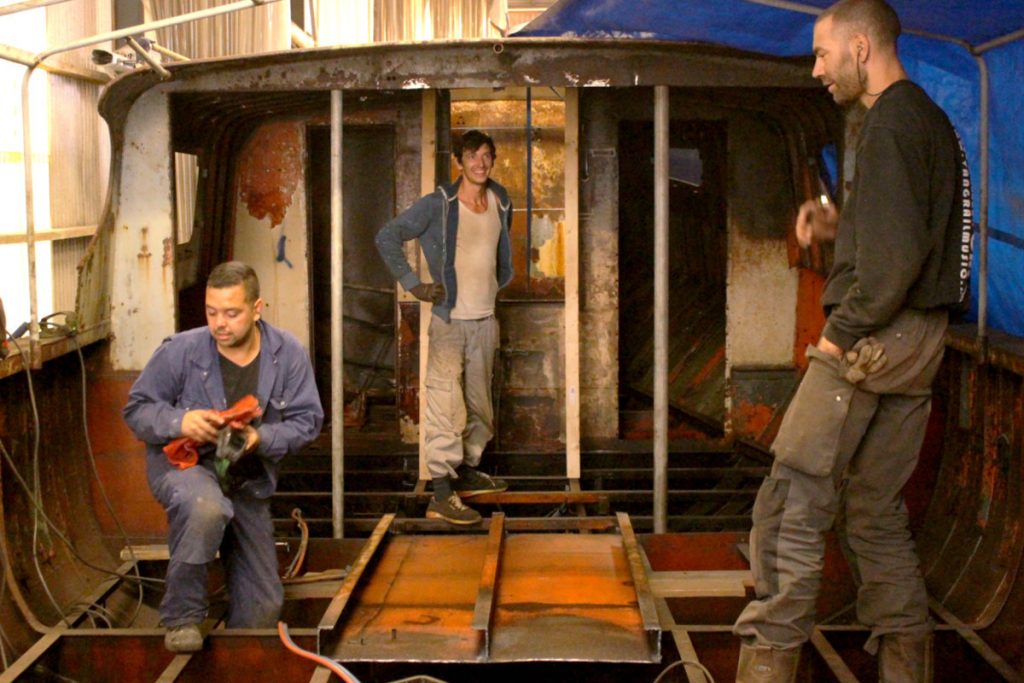 fr |  Vraisemblablement lors de précédents travaux de rénovation, une partie de la structure a été supprimée pour changer des tôles abîmées. Si les anciens propriétaires ont mené à bien la remise en état de la coque, la structure elle, n'a pas été achevée : nous forgeons donc les profils de chacune des varangues qu'il nous faut reconstruire. Avec une masse nous tordons des profils droits d'acier pour leur donner la courbure qui convient.
en | Probably during previous renovation work, a part of the structure of the structure has benn remove to change some damaged steel sheet. If the old owners have completed the mending of the hull, the structure has not been finished: we form therefore the profiles of every frame that we have to rebuild. We bend strait steel profiles with a sledgehammer to give them the right curve.
de | Wahrsheinlich auf vorhergehende Renovierung ist ein Teil der Rumpfstruktur abgebaut worden um Stahlblech zu tauschen. Wenn die frühere Eingentumer haben das Rumpf wieder hergestellt, die Struktur war nicht vollgeendet: da formen wir die Profile von allen fehlenden bodenwrangen die wir wieder bauen sollen. Mit einen Hammer verbiegen wir grade Stahlprofile um dem die gewünschte Krümmung zu geben.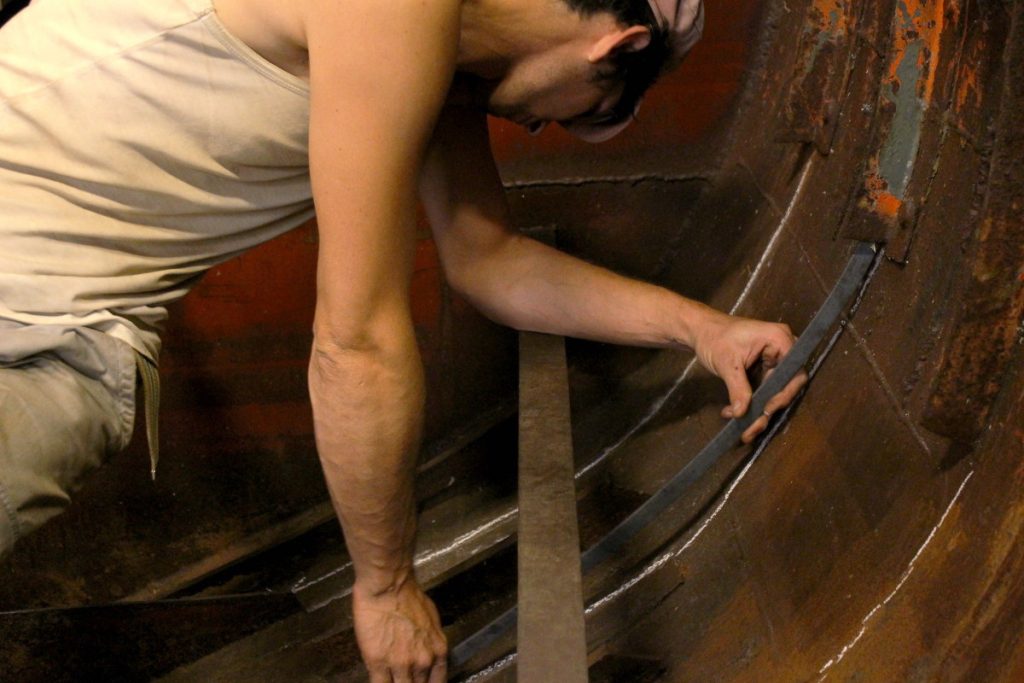 fr | Nous réalisons ces profils afin qu'ils servent de gabarit au chantier naval, qui cintre ensuite les éléments structurels définitifs dans la section de métal qui convient. Puis nous ajustons ces nouveaux profils et les soudons à la coque (points de soudure réalisés à l'arc, cordons de soudures au MIG) avec l'aide de Bryan.
en | We make these profiles in order to provide templates to the shipdock, which use them to bend the definitive structural parts in the right section of steel. We adjust then these new profiles and we weld them to the hull (welding point achieve with arc welding, solder achieve with MIG).
de | Wir bauen diese Profile damit die als Schablone für die Werft diennen. Die Werft biegt damit die strukturelle Bestandteile in die richtige Stahlabschnitt. Wir passen dann diese neue Profile an und schweißen die am Rumpf (Schweißpunkte mit Elektroschweißen, Schweißnaht mit MIG).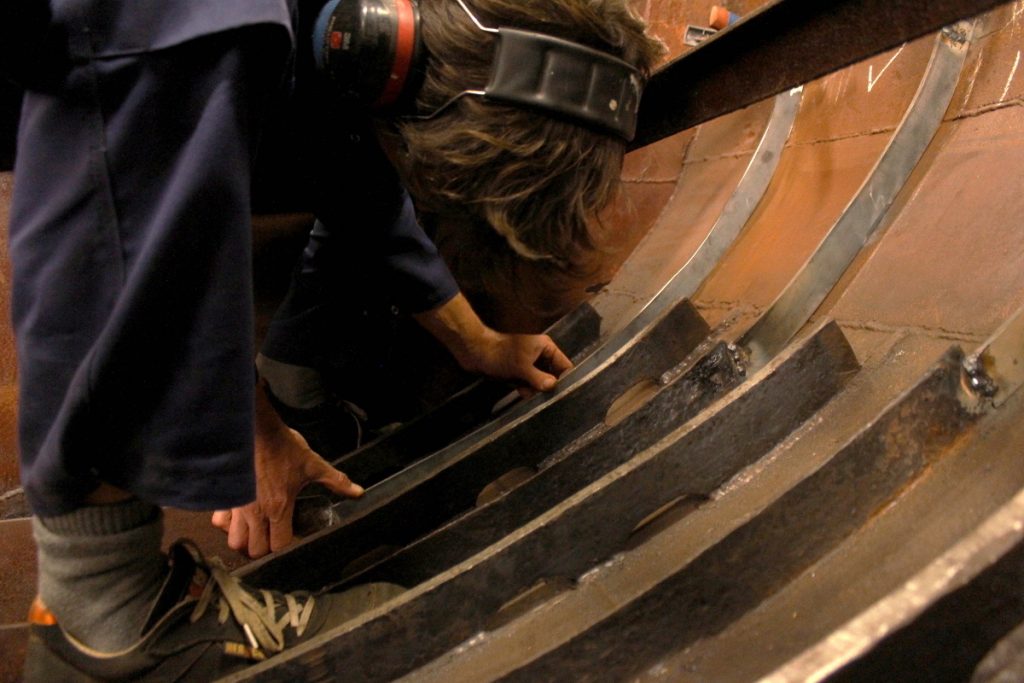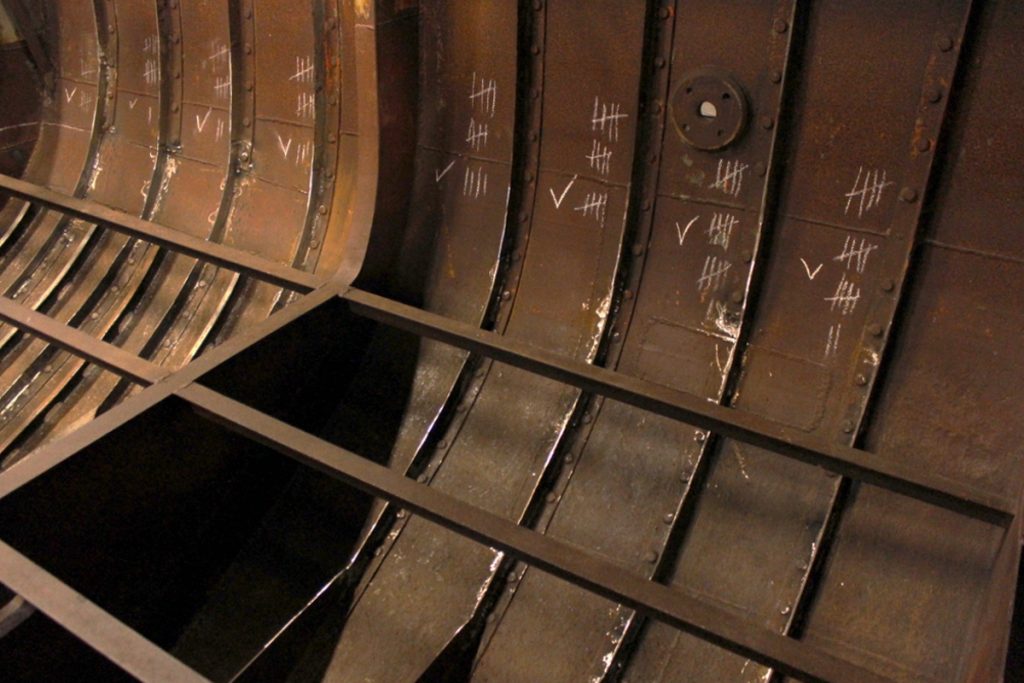 fr | Ne reste plus qu'à traiter de nouveau les fonds de coque à l'huile de lin. Renaud nous rejoint précisément à ce moment pour réaliser ensemble la touche finale de cette phase de chantier !
en | We just have now to handle again the bilge with Leinseed oil. Renaud join us to achieve the finisching touch of this working phase !
de | Es bleibt dann nur die Bilgen zu handeln mit Leinöl. Renaud kommt an diesem genauen Punkt um den letzte Schliff dieser Arbeitsphase zusammen zu schaffen!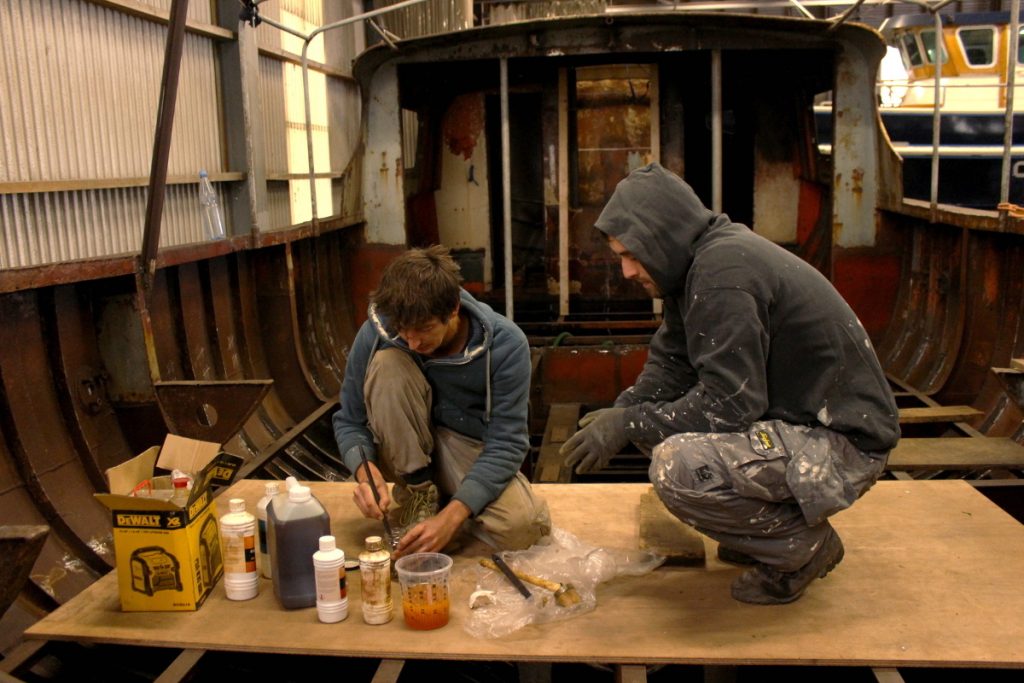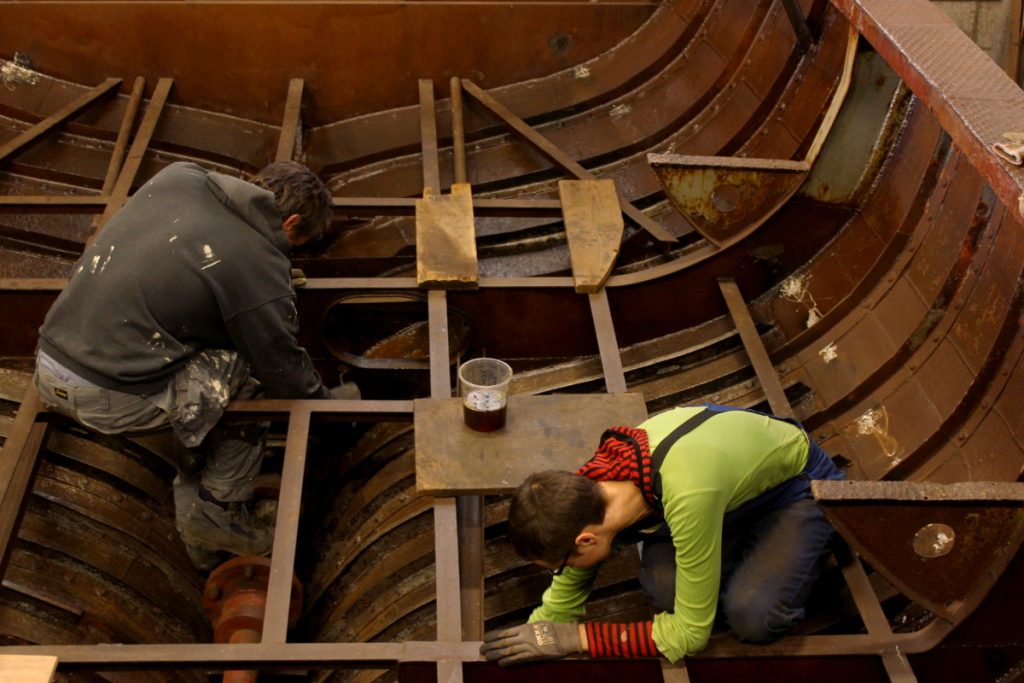 fr | Le résultat : l'intérieur de la coque prête à recevoir un nouveau pont (caissons étanches bois et métal).
en | The result: the inside part of the hull is ready to get a new deck (watertight caissons in wood and steel).
de | Das Ergebnis: das Innenrumpf ist jetzt bereit um ein neue Deck zu bekommen (wasserdichte Senkkasten aus Holz und Stahl).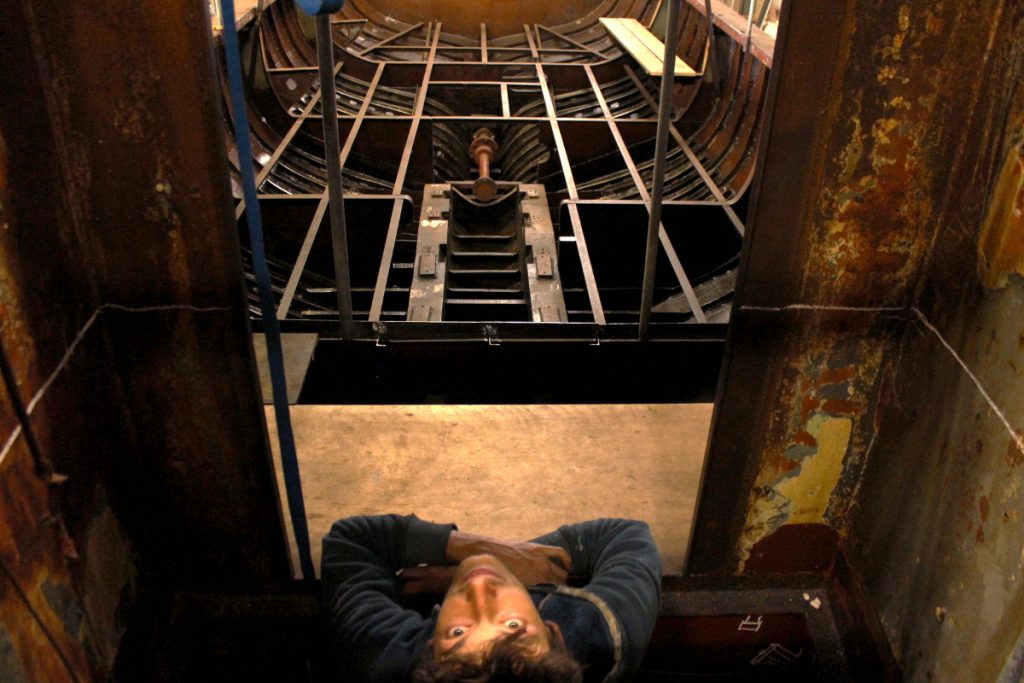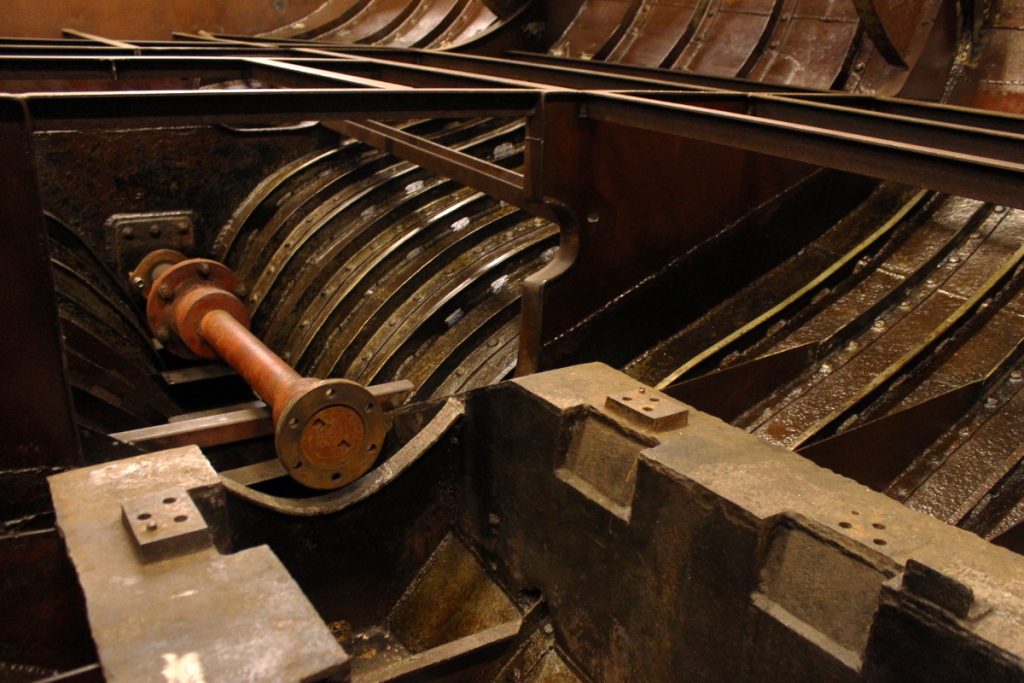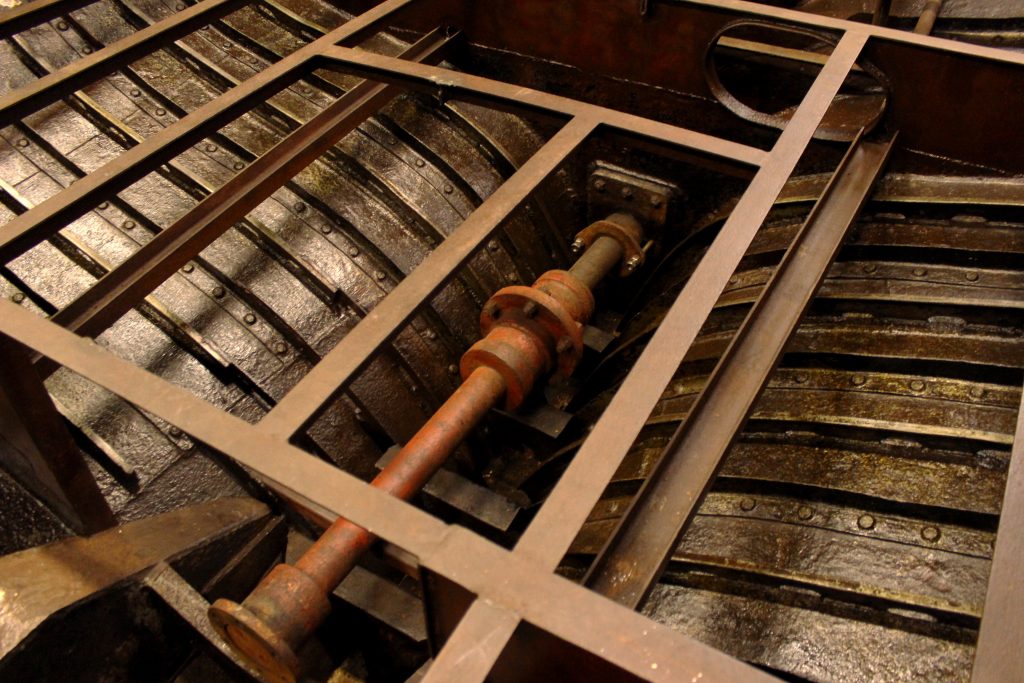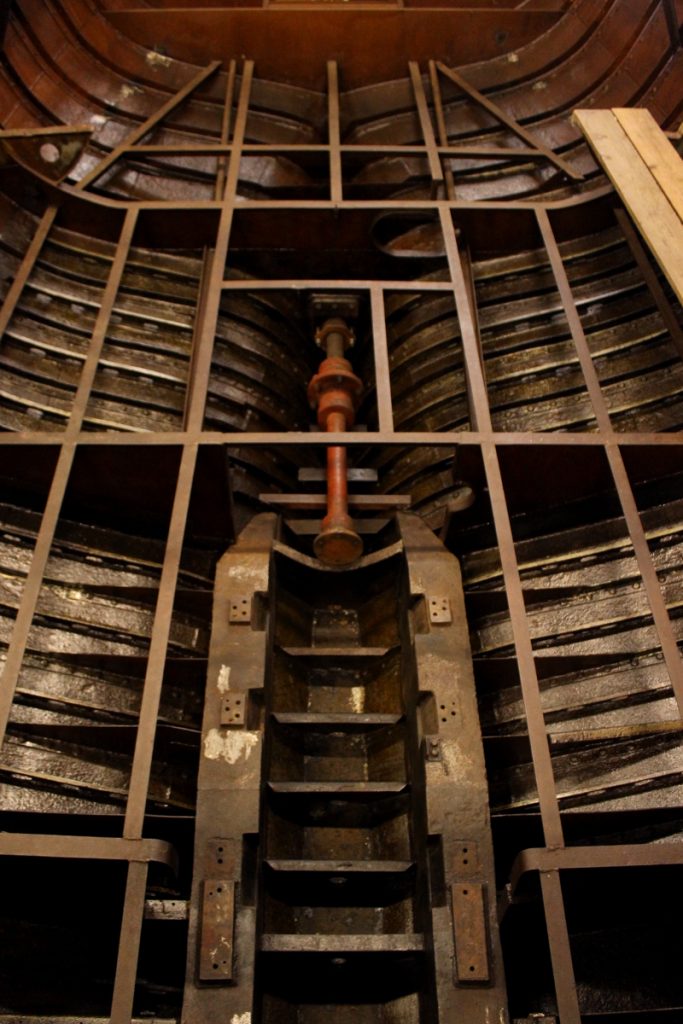 fr | La structure de la coque de Barkasse est remise en état! Nous l'hivernons de nouveau sous ses bâches bleues, et passerons l'hiver à préparer les deux prochains chantiers : la motorisation, puis le carénage.
en | The structure of the hull of Barkasse is refurbished! We cover it again for wintering and we'll prepare during the winter the two next working phase : the motorization and the hull handling.
de | Das Rumpfstruktur der Barkasse is hergerichtet! Wir überwintern die unter ihren blaue Plane und werden während des Winters die zwei nächste Baustelle zu vorbereiten.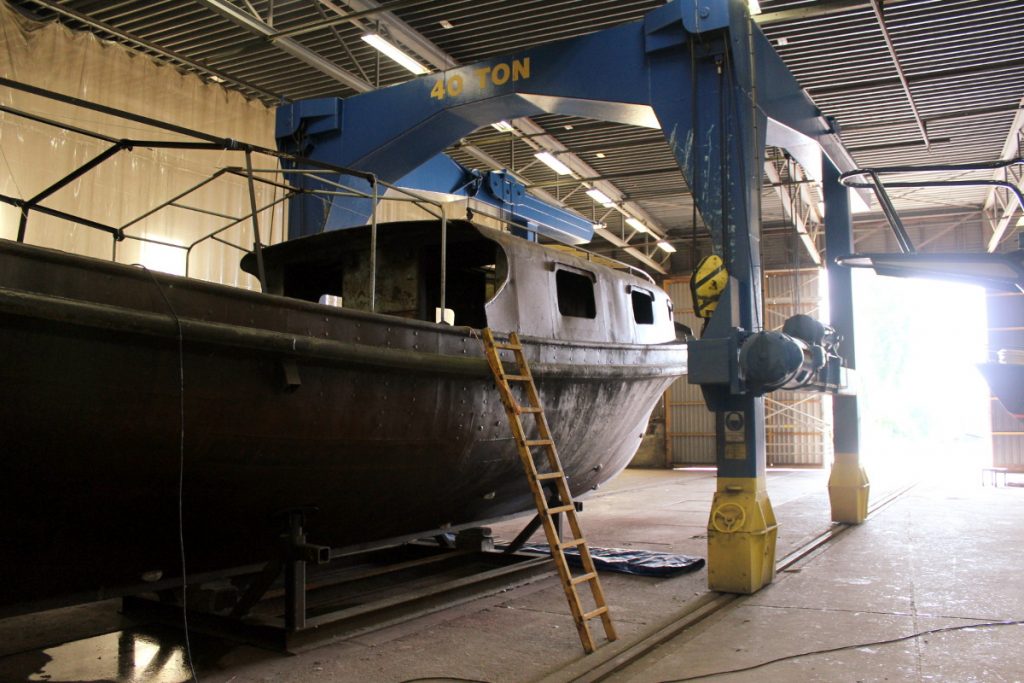 fr | merci aux ami.e.s Lena, Romain et Renaud ; merci au chantier naval Draaisma et particulièrement à Dirk, Rienk et Bryan.
en | thanks to our friends Lena, Romain and Renaud; thanks to the Draaisma shipdock and particulary to Dirk, Rienk and Bryan.
de |  Danke an unsere Freunde Lena, Romain und Renaud; Danke an der Draaisma Werft und besonders an Dirk, Rienk und Bryan.