fr | Après avoir habité Amsterdam au bord de l'eau, en auberge de jeunesse et dans le camion, nous prenons nos quartiers sur l'eau pour les prochains jours. Immersion dans l'ambiance de village flottant sur le Zijkanaal à bord d'un petit voilier accosté à une houseboat.
en | After living in Amsterdam by the water , in a youth hostel and in the van, we settle on the water for the next few days. Immersion in the floating village atmosphere on the Zijkanaal, aboard a sailboat docked to an houseboat.
fr | Photo du Zijkanaal prise en arrivant le 1er jour, sans savoir que nous allions bientôt y poser nos valises…
en | Picture of the Zijkanaal taken on the 1st day, without knowing that we would soon live there…
fr | Le canal est une grande allée le long de laquelle toutes sortes de maisons flottantes se succèdent. Entre arrière-cour partagée et voie de circulation interne, l'occupation en est surprenante : depuis chaque perron, on saute se rafraichir dans l'eau – dont on contrôle régulièrement la qualité nous assure notre hôte.
De notre côté de la rive, une bande de 15m environ sépare les houseboats de la rue, que les habitants de l'eau -même s'ils n'en sont pas propriétaires- se sont appropriés, la transformant en petits jardins et terrasses privés. Les règles de propriété ont l'air bien différentes de nos connaissances et habitudes terrestres. Ici on n'acquiert pas une superficie de terrain puisque l'eau, mouvante, n'appartient à personne, mais on achète son droit permanent d'occupation pour y mettre son lieu de vie flottant…  Prochaine étape, rencontrer et interroger les habitants de l'eau pour mieux comprendre le fonctionnement et les principes de ces réglementations.
en | The canal is a large alley along which all kinds of floating houses follow one another. Between shared backyard and internal traffic lane, the occupation is surprising: from each stoop, people jump to refresh in the water – which the quality is regularly check ensures our host.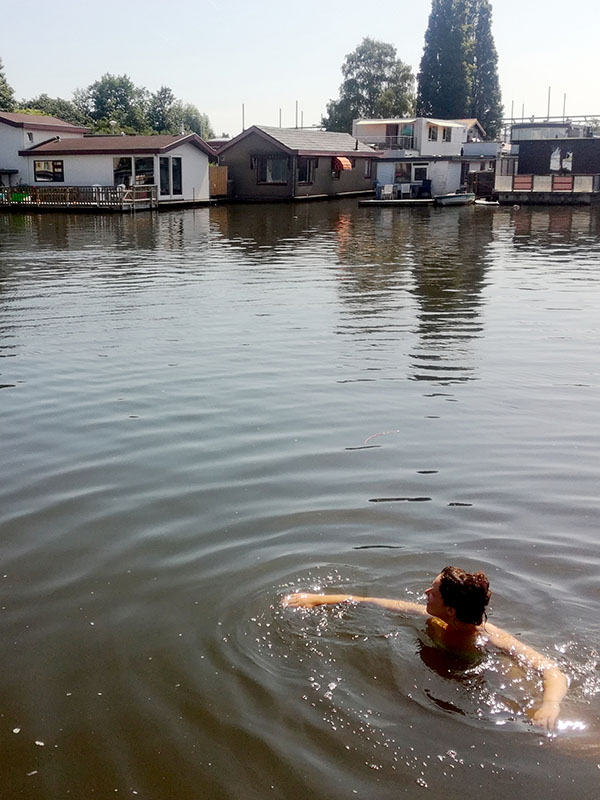 fr | Un test s'impose ! Petit bain pour s'immerger complètement dans notre nouvel environnement.
en | A test is required! Quick bath to immerse ourself completely in our new environment.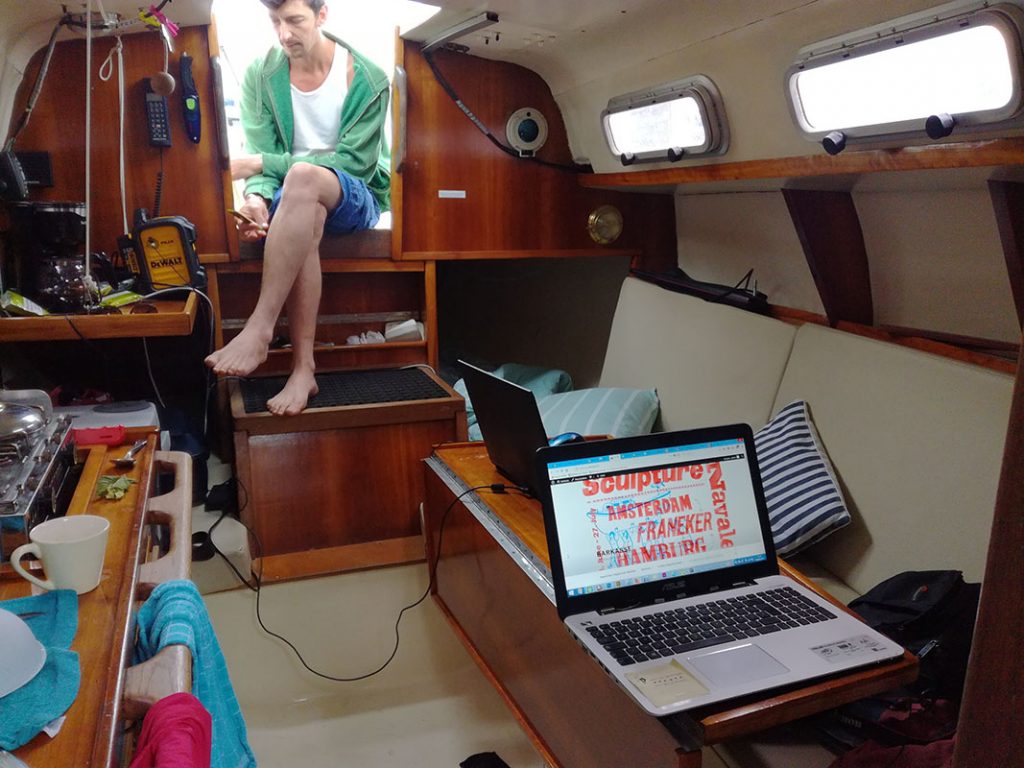 fr | Et de bonnes sessions travail. La partie d'administratif, organisation et communication, moins existante que les explorations et expérimentations, est pourtant tout autant nécessaire.
en | And good work sessions. The part of administrative, organization and communication, less exciting than explorations and experiments, is however necessary.