fr | Au nord des Pays-Bas se trouve la Frise, terre plate sillonnée de voies fluviales. Entre Leeuwarden, ville moyenne, et Harlingen, petite ville portuaire  abritant une partie substantielle de la Bruine Vloot (flotte de péniches traditionnelles à voiles brunes), se trouve Franeker.
Là est implanté le chantier naval Draaisma.
en | Friesland is north of Netherlands: a flat landscape furrowed by waterways. Between middle town Leeuwarden, and Harlingen, the port town which harboured a large part of the Bruine Vloot (traditional barge fleet with braun sail), is Franeker.
There is located the shipyard Draaisma.
de | Norden von die Niederlande findet man Friesland, flache Landschaft von Binnenstraßen durchgezogen. Zwischen die mittelgroße Stadt Leeuwarden und Hafenstadt Harlingen, die ein wesentliche Teil der Braune Flotte aufnimmt, ist Franeker.
Da steht den Werft Draaisma.
fr | La plus grande partie de l'activité du chantier s'est établit dans la zone industrielle. Quant au site historique, qui se trouve à deux pas ou deux coups de pédales du vieux centre-ville, installé sur une île le long du canal à grand gabarits, il a désormais pour usage principal l'hivernage de bateaux à sec. C'est là que se trouve Barkasse.
En été lorsque toute la flotte des bateaux de loisir saisonnier est partie faire trempette, le terre-plein et les halles se libèrent, le temps se fait plus clément. Le bassin, ses quais et ses berges, les vieux ateliers et les halles de construction navale ne sont alors habités que de palmipèdes et de quelques passionnés ; on restaure son bateau par soi-même, ou on travaille quelques jours sur des commandes à la marge, on bricole ou on vit à bord. Dans le calme des roseaux et parfois le vacarme de l'acier.
lors de la première visite de Barkasse, août 2014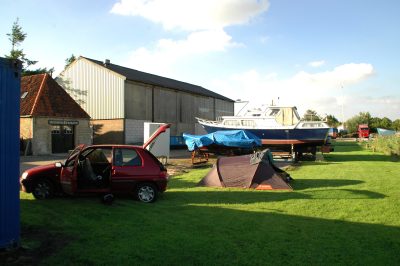 lors du chantier d'hivernage, août 2016
À la demande, la Barkasse séjourne sous la halle.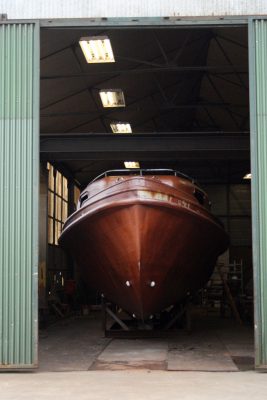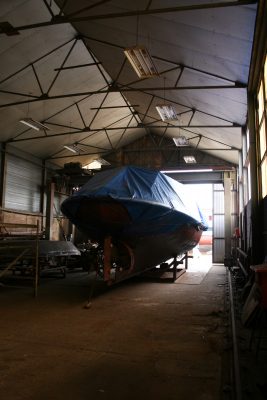 Des bateaux appontés, d'autres calés à sec, d'autres à flot la proue glissée dans les roseaux. Le bassin de mise à l'eau, le gazon très vert, le passage silencieux des péniches de transport enfoncées dans l'eau jusqu'aux épaules. L'ensemble constitue une invitation au campement.

lors du premier chantier, juillet-août 2015
Les savoir-faire disponibles au sein du chantier naval sont d'une grande richesse. L'équipe est arrangeante, sans doute intriguée, en tout cas bienveillante.