fr | Une épine dorsale court de la cabine à la poupe. Une cage thoracique en acier embrasse la coque et s'agrippe  aux fonds de cale. À bord on tire sur des cordages… soudain, l'épine dorsale se fend en son milieu et sa moitié située à la poupe tourne au dessus des quais, par delà le pont, au dessus de l'eau.
en | A dorsal spine straits from the cabin to the queue. A rib cage appear, all made of steel, embracing the hull and catching the bilge. People on the deck pull ropes: the dorsal spine suddenly splits. The fragment of the beam at the stern rotates over the dock, above the water, over the deck.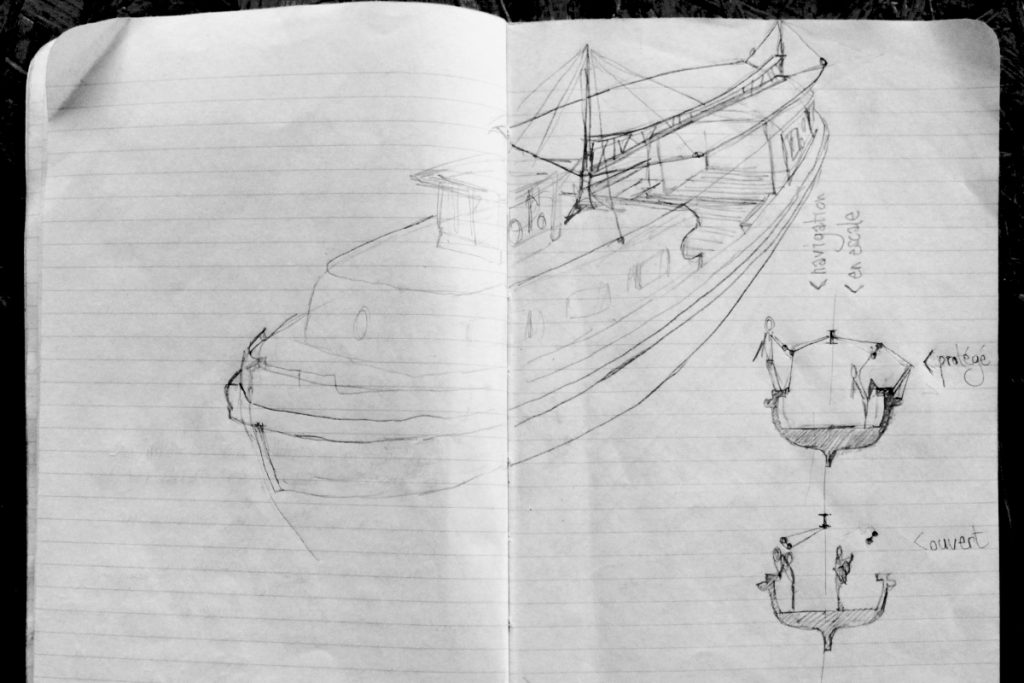 fr | Nous avons déambulé sur Barkasse des milliers de fois, avons cherché ses formes, du regard, du toucher… Nous lui imaginons sa corpulence à coups de crayons, à bout de tasseaux, de chambres à air, de cordages et de garcette.
en | We walked thousands times on board. We observe, feel and look for Barkasse's shapes… We imagine its body, draw and simulate with some cleats, bike tubes, ropes and strings.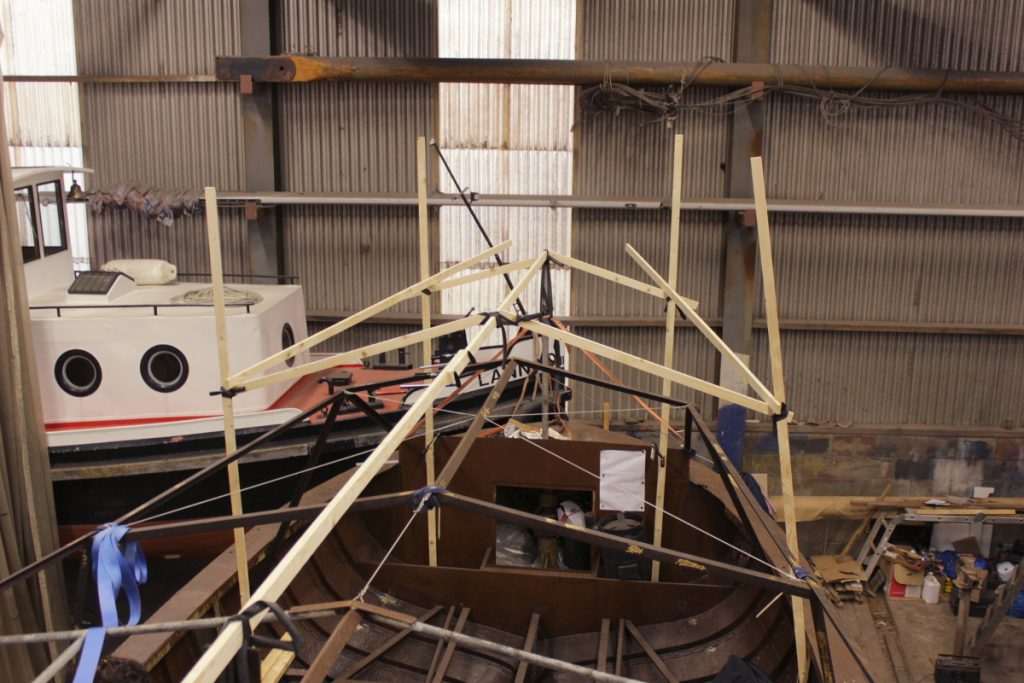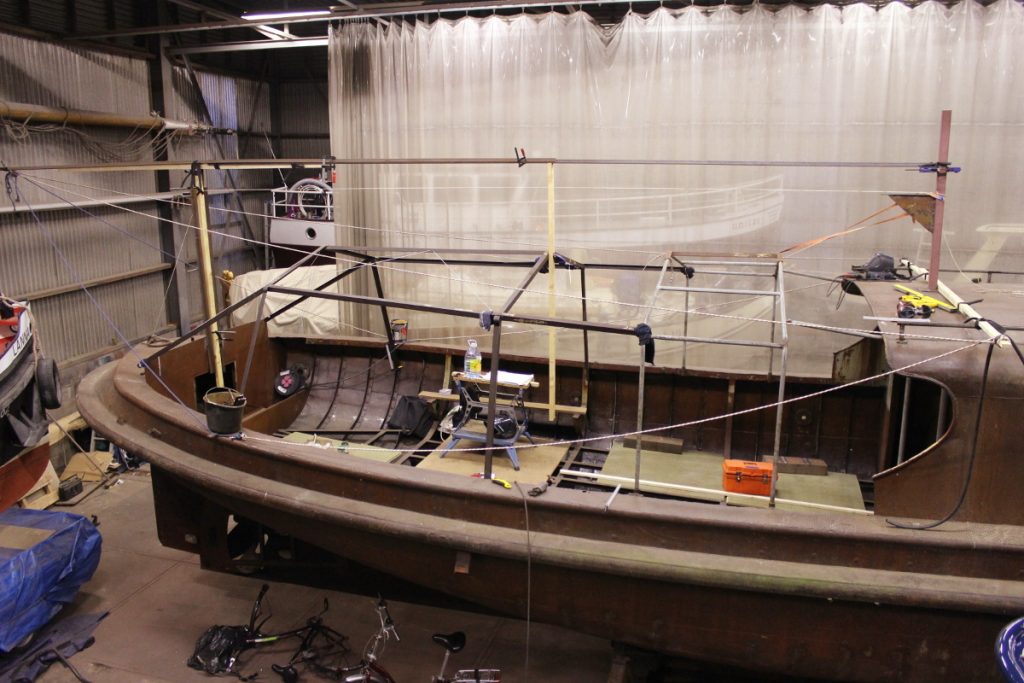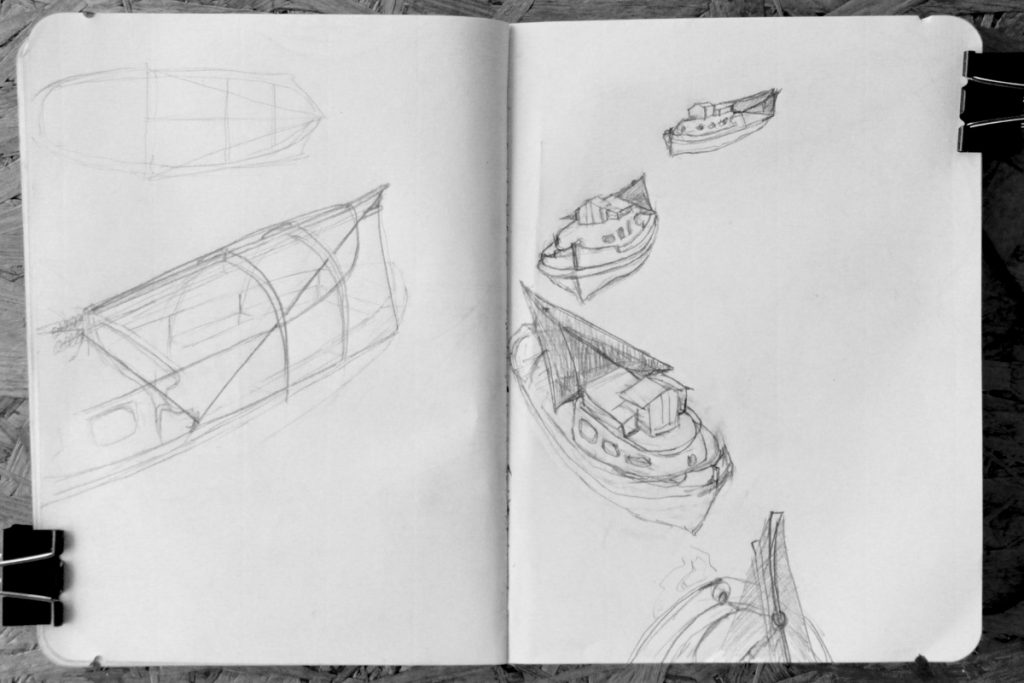 fr | Une épine dorsale ! Nous commençons par sculpter la trame, une poutre centrale surplombant le pont, une colonne vertébrale le long de laquelle rouleront des palans, sur laquelle une toile viendra se tendre, contre laquelle se greffera toutes sortes de nageoires, d'arêtes, de flottants, de poulies et de cordages.
en | A dorsal spine! We began by sculpting the frame: a central beam that overhang the deck, a spine along which will roll hoists, on top of which will strech a sail, against which fins,  bones, flags, pulleys and ropes will be implanted.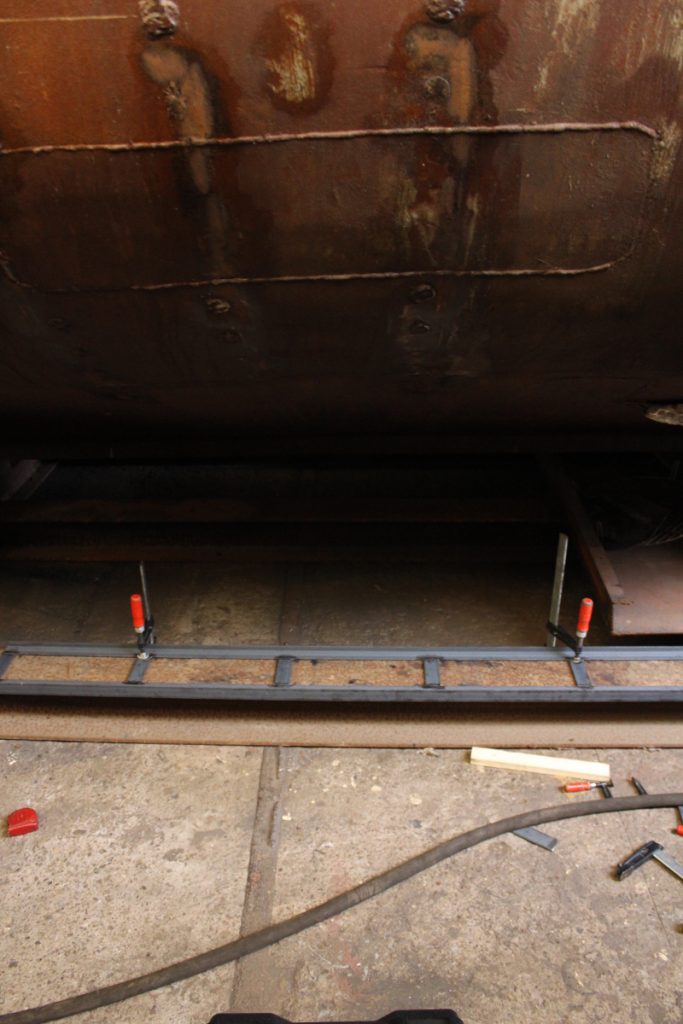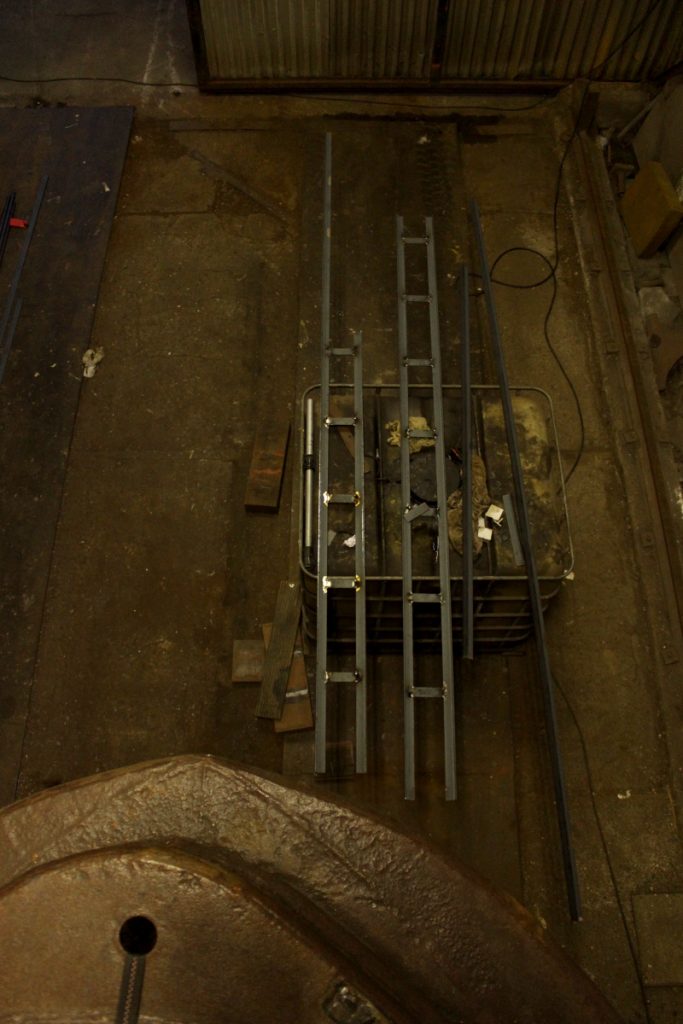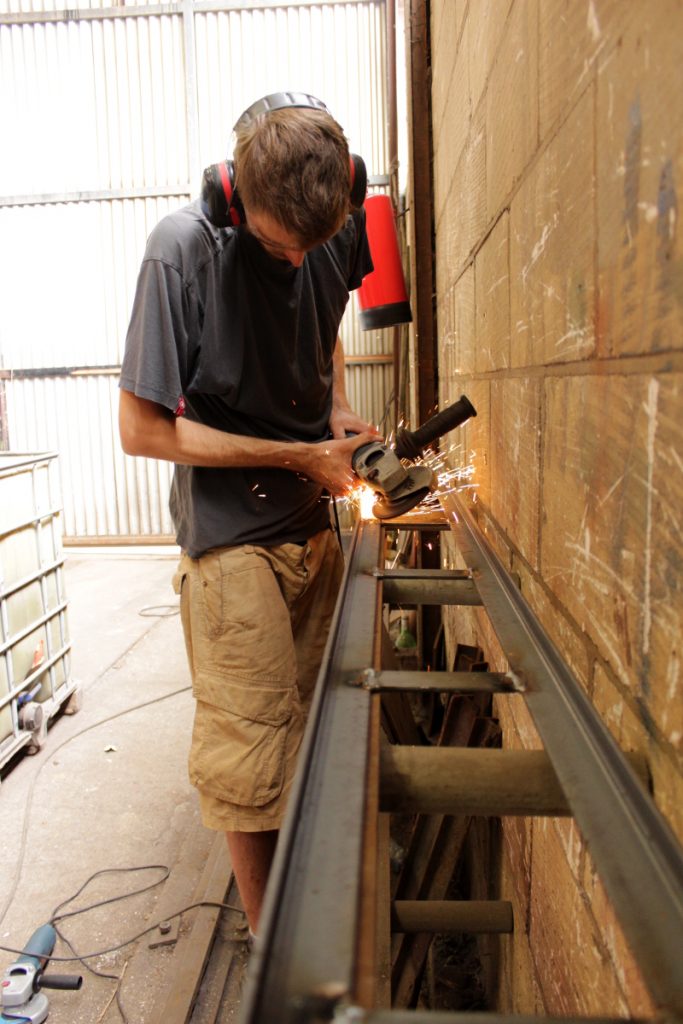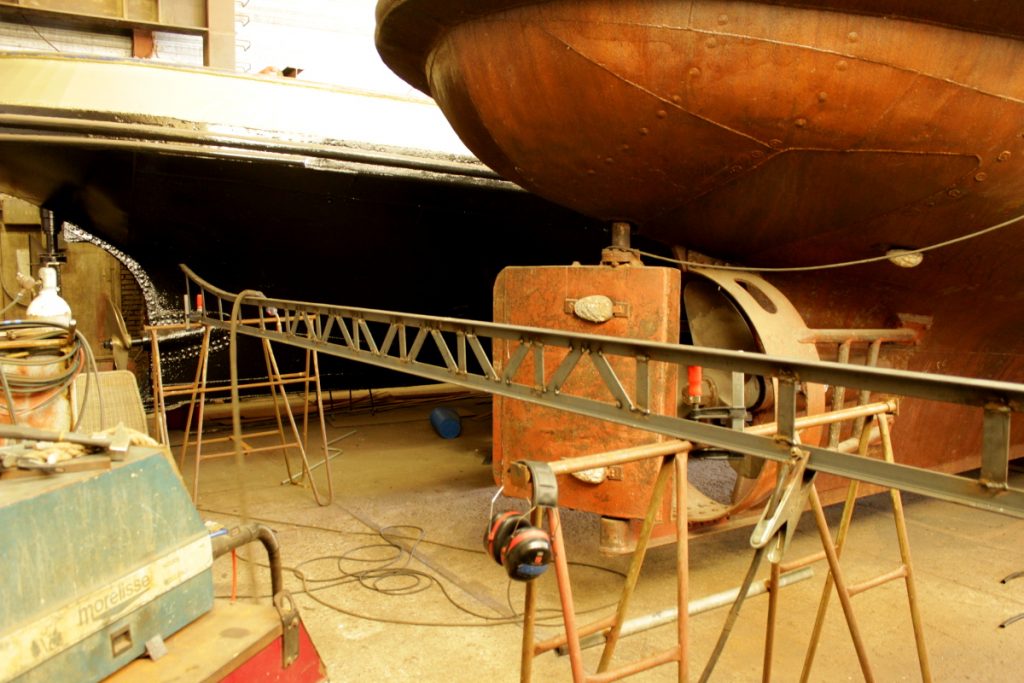 fr | La découpe, la soudure et le meulage de l'acier étincellent sous la halle.
en | Cutting, welding and grinding flasch under the hangar.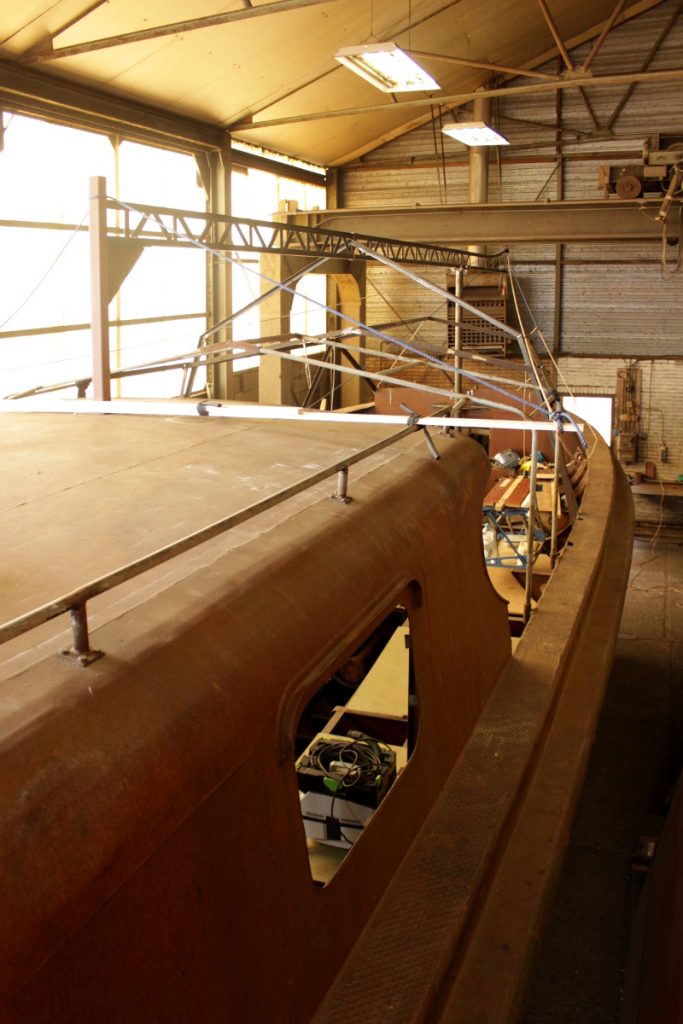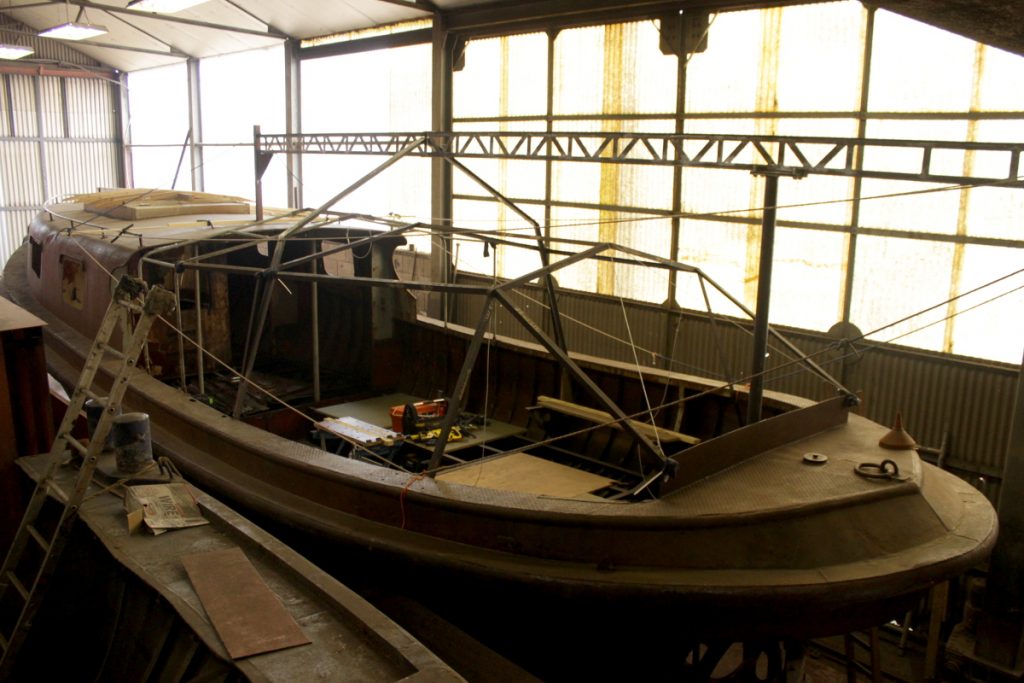 fr | Cette épine dorsale tiendra en six points : à l'avant sur un appui central, au milieu et à l'arrière, sur des arches thoracique et enfin sur un axe, à la poupe. En sa moitié, la colonne se brise. La partie arrière tourne sur cet axe, par delà le pont, au-dessus des quais, en surplomb de l'eau…
en | This dorsal spine will hold on six points: at the front on a central point, in the middle and at the back on thoracic arches and finally on an axe at the bow. In its middle, the spine splits. The fragment of the beam at the stern rotates over the deck, above the water, over the dock…
ARVE Error: src mismatch
provider: dailymotion
url: http://dai.ly/x6pgvxi
src in org: https://www.dailymotion.com/embed/video/x6pgvxi
src gen org: https://geo.dailymotion.com/player.html?video=x6pgvxi